Back to Outreach
16th March 2023
Media coverage - COEMinerals research career + new research sparked by high school science teacher
Read the research paper here:
Application of inclined channels in the hydrodynamic classification of minerals by particle sizehttps://​www​.sci​encedi​rect​.com/… — ScienceDirect

Read The Newcastle Herald article here:
Thur 16 March 2023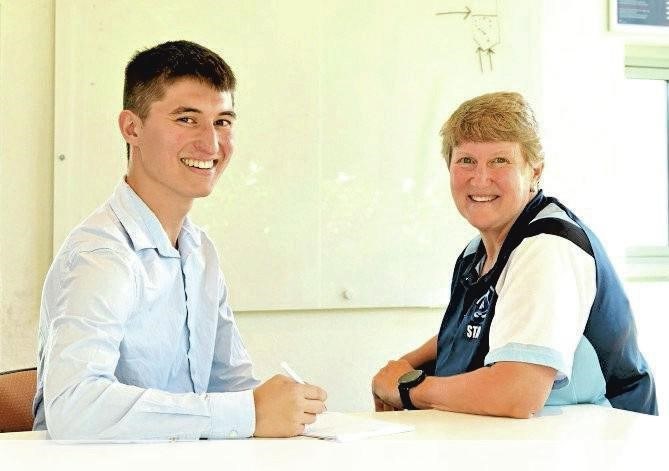 –
NEWS
From student to scientist
ONLY a few years ago, Josh Starrett was a HSC chemistry student who was wondering where his interest in STEM (Science, Technology, Engineering and Maths) might take him.
Today the 23-year-old is celebrating the publication of his first academic research paper, which looks at how the rapidly-expanding minerals processing industry can become more sustainable.
The paper, published in the journal Minerals Engineering, maps how new Australian-made technology enables minerals processing plants to operate more efficiently.
"It's incredible to be able to be a part of real-world research that gives industry the power to recover critical minerals more efficiently, while also reducing the water and energy use, and waste generated during the process," Mr Starrett, who is a researcher at the Australian Research Council's Centre of Excellence (Minerals) based at the University of Newcastle, said. ​"Some processes used in industry haven't changed much in more than 50 years, and they can produce more waste while consuming more energy. There are now much better ways to process minerals thanks to new innovations.
"My research tests and documents the effectiveness of using newer technologies based on data and novel scientific methods. This research provides industry with the information to make informed decisions that can lead to real change for the benefit of everyone."
'' It's incredible to be able to be a part of realworld research.
Josh Starrett
Centre director, Laureate Professor Kevin Galvin, who co-authored the paper, said Mr Starrett's research pushed the boundaries beyond what has previously been possible.
"It provides the scientific community and minerals sector with a new level of clarity on how to classify particles according to their size with extreme precision and at a very high processing rate," he said.
Mr Starrett's science teacher at Merewether High, Ros Penson, was delighted to learn about her former student's achievements.
"Josh was one of those students who didn't just want to rote-learn work, he wanted to gain a deep understanding of how concepts could be interlinked," she said.
"I knew Josh would enjoy the rigour of university. It is exceptionally gratifying to see former students making their mark at the very high level that Josh has achieved.
"Josh's data may just be the catalyst industry needs for moving away from older sorting methods, and a transition to newer technology and more sustainable minerals processing techniques."
Federal Minister for Education Jason Clare said the work of the Australian Research Council was critical to developing the world's best researchers.
"Researchers like Josh are changing the game and demonstrating the very real benefits that Australian research can deliver to key industries," he said.
—
Read additional media coverage here:
Mirage News / Education section 17 MAR 2023
www​.mira​ge​news​.com/​h​i​g​h​-​s​chool…
Mirage.News is an independent, real-time media platform operating out of Wollongong providing live coverage of newsworthy developments firsthand from primary and authoritative sources including international organizations, governments, peak bodies, leading universities, scientific journals, and research organizations.