Back to Outreach
21st July 2023
Media - ABC News / COEMinerals Chief Investigator David Beattie comments in 'World News Today' interview

Audio story: ABC News — World news today (21 July 23) — 

Young STEM researchers suffer from year-long visa delays despite skill shortages



Calls for new visa options for highly skilled

STEM

researchers as dozens stranded by year-long waits
—-


In summary: Universities say Australia will miss out on attracting the world's brightest science, technology, engineering and maths researchers because of ballooning delays to visa processing times.
—
COEMinerals Chief Investigator Professor David Beattie (University of South Australia) comments on the Visa delays being experienced for overseas PhD student researchers.
"As a scientist I like to understand why things are happenning, that's my job.."
The Australian Research Council (ARC) also commented in the 3min, 511 second audio interview.
–
Print story in full:


Key points:
Iranian PhD students are facing waits of over

12

months for Australian visas despite being awarded scholarships
The Department of Home Affairs has rejected suggestions applicants from certain countries face more scrutiny
The research sector is calling for the introduction of visas tailored to highly skilled

STEM

workers
Iranian engineer Sara Mirabi was given a full PhD scholarship last year to move to Australia and help develop artificial intelligence (AI) technology.

But now, the 31-year-old PhD candidate at Deakin University, still stranded in her home in Iran, has had to defer her degree for the third time due to a year-long delay in visas, while the project she is participating in is now in limbo due to her absence.
"At the moment I just feel stressed," Ms Mirabi said.
"I feel a high pressure, and sometimes I can't control it because it's not about one day, two days — it's about two years."
Ms Mirabi is one of dozens of Iranian PhD students caught up in a year-long visa delay, who now fear losing their scholarships and positions if the delay continues.
Many of them are outstanding young professionals and researchers in the science, technology, engineering and mathematics (STEM) sector, in which Australia projects a significant skill shortage in the next decade.
They accuse the Department of Home Affairs of singling out Iranian visa applicants and conducting extensive national security checks on them, following political protests and international sanctions against the country.
The department has repeatedly denied targeting visa applicants of certain countries or backgrounds.
University leaders say that while it is unlikely that prospective students of certain nationalities are facing more scrutiny during visa processing, young STEM researchers have been facing visa delays since before the pandemic.
And with critical projects like the AUKUS alliance underway, the sector is calling on the federal government to develop a sustainable visa approach — including by introducing new visa types — to ensure Australia secures STEM talent for the country's future.
Long national security checks turn
STEM

talents away

For Hamed, who prefers to use his first name only, the past 22 months waiting for his visa have been torture.

He expected his PhD research project could help reduce costs of production while making Australian houses more environmentally friendly.

But instead, Hamed is now stranded in his home in Iran due to the visa delay, and he has no clues about when his wait will end.

"It is now essential for me that I can plan to come on shore to the Wollongong campus to continue my research," Hamed said. ​"The next phase of my work requires access to the laboratories."

On Twitter, he has met with dozens of Iranian PhD students who have also had their visas delayed for more than 10 months, leading to the deferral of their PhD projects and fear of losing their positions and scholarships.

He believes his case has been now subjected to extensive national security checks due to his Iranian nationality.

The ABC has previously reported that since 2018, there have been long visa delays for PhD students from China due to national security checks, with PhD students from India and Pakistan also reported to have similar issues.

Hamed is now considering heading to the United States to pursue his research career if the delay continues.

Hamed's university reached out to Alison Byrnes, the Labor MP for Cunningham, where Hamed's university is located.

The ABC has seen a letter from Immigration Minister Andrew Giles to Ms Byrnes in February 2023.

Mr Giles said he understood the delays in visa processing ​"can be extremely upsetting to all concerned".

However, "[all] non-citizens applying for a visa to enter Australia are considered on an individual basis and against legal requirements set out in Australia's migration legislation," he wrote.

"This includes mandatory health, character and national security checks."
Accusations of bureaucracy and confusion within visa process
Hamed said the letter from Mr Giles did not explain to him why he had to go through such a long clearance check.
Nor did it satisfy Alireza Allahyari, who has been waiting for their visa for 18 months.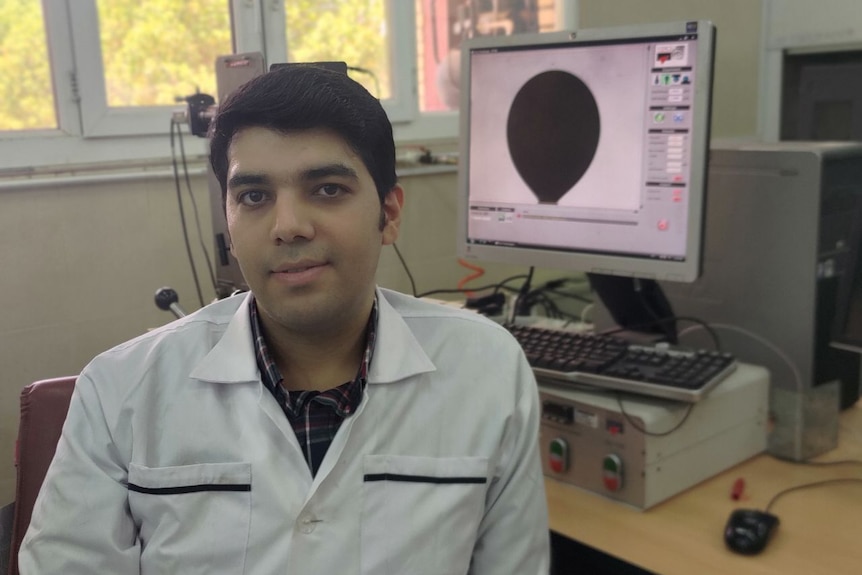 Alireza Allahyari won a PhD scholarship at the University of South Australia.
"There's no clear explanation or time line [on visa process for PhD students]," said Mr Allahyari, who said he approached several academic groups to seek help, only to find many were not unsure about the visa processes.
Mr Allahyari's supervisor, David Beattie, said before recruiting students, their projects had to go through clearance checks via the Australian Research Council (ARC), a government entity for research grants.
After the grants were approved, Professor Beattie then began recruiting student candidates across the world.
"The reason that we've recruited [Mr Allahyari] is because they have the expertise that we need for the project they have. We interviewed them. They were trained by a scientist that we know," said Professor Beattie.
"It just so happens that [Mr Allahyari is] based in Iran, and we've been caught up in this dramatically overlong process of approval that I can't see any reason why it's been so long."
A spokesperson for the ARC told the ABC that all research grants were given a final date for commencement.
The time frame can be shorter than the visa delays that these PhD students are experiencing, as it is ​"typically either by 12 months from the Project initialisation date or a specified date as per the Grant Agreement".
When asked about its response to visa delays against international PhD students, the spokesperson said ARC funding was provided ​"to the Administering Organisation (University), not to individual researchers".
"Visa processing times are a matter for the Department of Home Affairs," it said.
A spokesperson from the Department of Home Affairs said the Department ​"does not comment on individual cases" when asked about the visa applications of Mr Allahyari and Ms Mirabi.
"Median processing times for Student visa across all sectors in March 2023 is 15 days, 69.4 per cent lower than the 49 days in December 2022," the spokesperson said.
Sector proposes more visa options for
STEM

researchers

Vicki Thomson, the chief executive of Group of Eight, which comprises Australia's leading research universities, said she disagreed that students from certain countries were targeted.

But she acknowledges that PhD students — especially those from STEM disciplines — have suffered from lengthy visa delays that could potentially damage Australia's research profile.
Vicki Thomson says making visas accessible for highly skilled

STEM

researchers is key to meeting the needs of

AUKUS

deals. (Group of Eight Austtralia)
"It's not acceptable for some students to be awaiting a decision for a year or more, and they basically are putting their lives on hold," Ms Thomson said.
She also said the long visa delays for overseas STEM researchers was ​"a global issue of heightened security checks" in research communities, and Australia was actually ​"in front of the game" compared to its competitors such as the UK.
"But at the end of the day, it is the government's decision," Ms Thomson said. ​"What we would say is could you make that decision perhaps in a quicker time frame."
But Australia is also in an era that needs highly skilled STEM workers from overseas to meet its needs.
Government data shows that since 2016, Australia's highly skilled STEM workforce has been heavily relying on migrant workers, with almost six in 10 university-qualified STEM workers in Australia being born overseas.
Meanwhile, Australia is projected to face a shortage of 200,000 engineers by 2040 if governments and industries do not ​"take urgent action", according to a March report by Professionals Australia.
Anti-discrimination laws exemption may cost engineers AUKUS work
And with Australia acquiring nuclear submarines through the AUKUS alliance, the country is being warned about lacking the people with critical skills to operate and further develop the nuclear sector.
Ms Thomson, who is involved in discussions about research collaboration for AUKUS, said it was time for the federal government to consider a high-potential-individual visa for young STEM researchers in areas of critical needs so their applications can be fast-tracked.
"[We need] a process where we can fast-track, but without losing the integrity of our security checks, so that we can work across countries in those global research challenges," she said.
"Because research doesn't just happen, you know, in a little country by itself."
In May's federal budget, the Albanese government announced an extra $660 million in funding to improve visa processing times and reduce visa backlogs.
Posted 25 Jul 2023